News in Brief
New President Appointed to Romanian Court of Accounts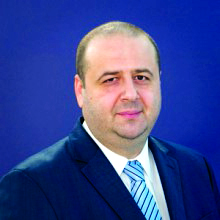 The Parliament of Romania appointed Mr. Mihai Busuioc as President of the Romanian Court of Accounts (RCoA) in October 2017. He will serve a nine-year term.
As president of the RCoA, Mr. Busuioc aims to enhance audit mission quality through enforcing unitary work practices, building and implementing an integrated computer system, introducing the principle of mobility, as well as employing active and efficient collaboration with specialized institutions and professional associations in the field.
Strengthening RCoA's communication with stakeholders and citizens, ensuring organizational transparency and providing flexible responses within a rapidly changing environment that are consistent with the RCoA's constitutional mission are top priorities.
Mr. Busuioc proposes improving international cooperation with other Supreme Audit Institutions (SAIs), particularly within the International Organization of Supreme Audit Institutions (INTOSAI) and the European Organization of Supreme Audit Institutions (EUROSAI) communities.
For more details and dignitary professional biographies, visit the RCoA website at http://www.curteadeconturi.ro.